Hello everyone! I know Easter is tomorrow so if you are running around today prepping for it or wondering what to prepare I have a few helpful tips!
I believe that not every holiday or occasion calls for a super formal setting, especially when its going to require a large clean up. With Easter being a family holiday that will be sure to include kids activities I try to have this blog have tips for all ages.
So a Easter appetizer that is typically a favorite are deviled eggs. I know at my house they don't last long! Since you will most likely already be dying eggs why not make colored deviled eggs? It's super easy and super cute!
Check out this link from All Recipes on instructions to create the picture below:  http://allrecipes.com/recipe/231590/easter-deviled-eggs/
As far as those bright colored Easter eggs….my helpful tip is vinegar and patience. White vinegar helps bring out the vibrant colors and if you leave the eggs in the dye a little bit longer you are sure to get great results.
Egg dying and decorating tips below:
http://www.ehow.com/how_6339895_make-easter-egg-dye-brighter.html
http://www.bhg.com/holidays/easter/eggs/quick-and-easy-easter-egg-decorations/
http://www.countryliving.com/diy-crafts/how-to/g1282/easter-egg-decorating-ideas/
I hope you all make some wonderful eggs!
Now for some adult beverages! After the church service ends and the egg hunt begins, why not have some delicious drinks for those adult guests and parents 😉
Nothing like a light sparkly drink to start things off.  One of my favorite drinks I made last year for friends at a brunch was a Strawberry Champagne Mojito. Let's just say it was a hit so thanks Suburban Soapboax!
All you need is:
1 cup diced strawberries
12-14 mint leaves
4 teaspoons superfine sugar
4 ounces fresh lime juice
4 ounces white rum
1 bottle champagne
Full details in link: http://thesuburbansoapbox.com/2016/02/29/strawberry-champagne-mojito/
Now living with someone who doesn't drink alcoholic beverages I know sometimes you may have to create a good mock-tail. Kitchn.com has an awesome compiled list 15 sparkling drinks which include 5 great non alcoholic drinks! Make sure you scroll to the entire article for the complete list of drinks.
http://www.thekitchn.com/15-sparkling-drinks-for-spring-entertaining-recipes-from-the-kitchn-203387
So I realize many of the dishes will be the holiday norm such as ham, a pork roast, corn, green beans, mashed potatoes, etc.  But what about changing up some of the sides this year? I love zucchini and decided to try this Garlic Parmesan zucchini casserole by the Seasoned Mom and it was amazing! She completed the dish with store bought chicken cordon bleu which I have yet to try but the link is below if you are looking for a simpler Easter dinner. Practicality can still be yummy!
I will personally be barbecuing this Easter at the lake because of two reasons: 1. I love being outside 2. Easy clean up
I will be making some chicken skewers with vegetables. I  think its a easy, quick yet delicious dish that is super simple to prepare. I typically use chicken but you can use beef. As far as veggies my family prefers bell papers, red onion, and zucchini. I purchase the wooden skewers as Smart & Final because the metal ones can burn your hand and the wooden ones I can easily toss.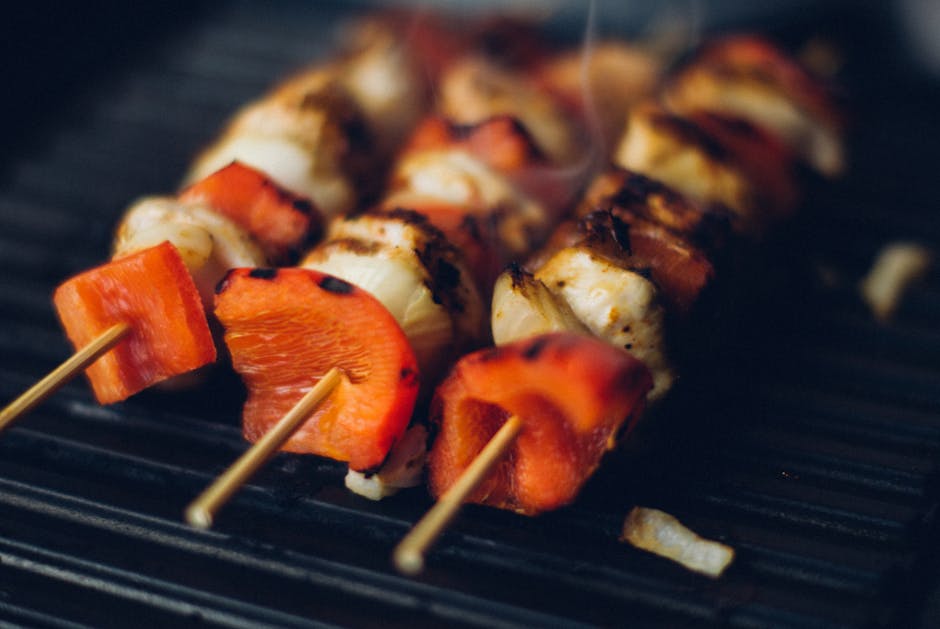 I will be completing my BBQ with deviled eggs (mentioned above) and a fresh green salad. I won't serving anything super heavy for dinner as everyone will be bringing desserts and snacks galore. And of course don't forget the eggs hunts and outdoors games! Also if you choose to stay home and host dinner I want you to remember to enjoy holiday and don't exhaust yourself as the host!
Until next time…Happy Easter everyone!